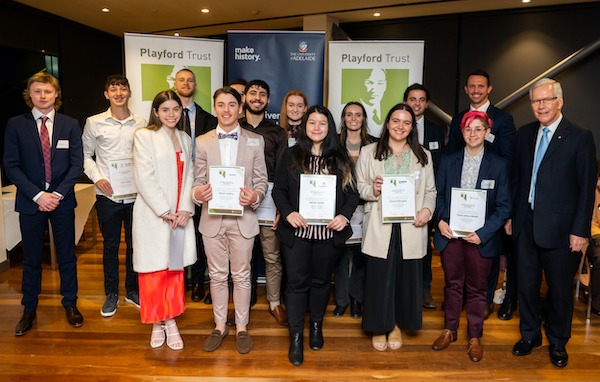 Another 14 prestigious university scholarships have been awarded by the Playford Trust – this time to STEM students headed for careers in South Australia's vital resources industry.
Key industry players, the State Government and the Trust are backing a five-year program to help ease a shortage of key skills in the sector, which contributes 50% of the State's export income and is described as key to the nation's technological future.
"The sector is enabling the shift to advanced manufacturing and robotics, the move to e-mobility, powering our mobile phones and smart watches, warming our homes – and is instrumental to the world's carbon-neutral infrastructure," CEO of the SA Chamber of Mines and Energy (SACOME), Rebecca Knol, told students at an awards ceremony on Thursday night.
"It is an incredible time to be entering this sector and the world is quite literally your oyster."
The program, which will run until 2026, is being co-funded by the Government and leading resources companies Cooper Energy, Hillgrove Resources, Iluka Resources, OZ Minerals, Rex Minerals, Santos and Tri-Star.
The scholarship recipients are a mix of first-year and Honours students. See the list here – and take note of their names – they're going places!