Our partnership with the Department of State Development
The Playford Trust continues to partner with the Department of State Development and the Defence Teaming Centre to offer internships and scholarships to increase the State's skill base in the important areas of defence and science, technology, engineering and maths (STEM). The Trust works with its partners to ensure these opportunities attract the best and brightest students South Australia has to offer.
With this partnership, the Trust will further support the Government of South Australia's commitment to growing the defence and related STEM sectors. These sectors create long-term employment for our communities, attract significant investment and drive innovation in South Australia. The Department of State Development provides funding for the Programs, and is responsible for overseeing and administrating the programs in consultation with the Playford Trust and the Defence Teaming Centre.
The Defence Honours Scholarship and Defence and STEM Internship Programs enable some of the State's most advanced technology companies to nominate a project to be matched with high performing undergraduate students in their field of interest.  The students gain valuable industry experience and are able to enhance their future career and employment prospects by working on real-world tasks.
Industry partners include:
Lockheed Martin Australia
Rheinmetall Simulation Australia
ASC
Boeing Defence Australia
BAE Systems
Testimonials
Current partners Saab Australia and Inovor Technologies believe that the Defence and STEM Scholarship and Internship program is a great start to encouraging undergraduates and, with good candidate selection, can add value to the partner's knowledge base.
Greg's project was to create the first version of the submarine build manual for the entrants in the Subs in School ™ program. High school students use the manual to build a fully working remote controlled model of a submersible submarine. Greg's expertise in Mechatronic engineering at the undergraduate level ensured access to the latest knowledge and skills relevant to the project.
Saab is proud to have mentored the 2016 National Subs in Schools champions ATHENA, an all-girl team from St. Peters Girls School in Adelaide and to have supported them as a Platinum sponsor at the MATE ROVE competition held at the NASA Buoyancy Laboratory in the United States.
We encourage students to approach their tasks without pre-conceived ideas. This helps develop Australian, home grown product, often leading to innovative novel solutions to problems. By providing realistic tasks and/or projects to undergraduate students, there is a great two-way benefit: industry learns from the enthusiastic, talented and vibrant engineers they are able to use within projects; and the students deliver tangible outcomes to assist with actual project deliveries.
Developing an Australian Defence Industry and in Saab Australia's case, developing export opportunities, requires these scholarship and internship programs. Encouraging undergraduates, providing real challenges in a real world environment will provide a stronger Australian industry.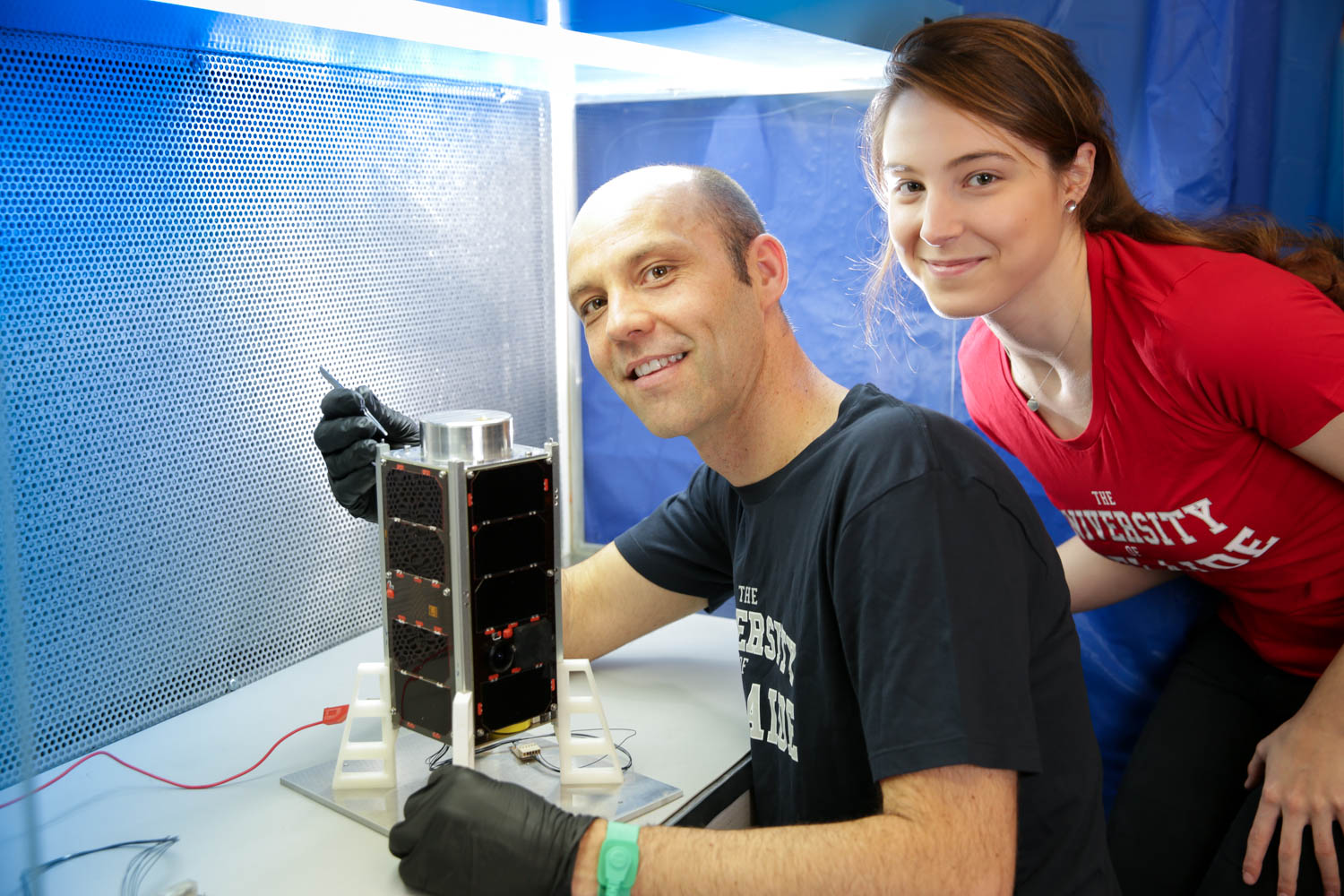 Dr Matthew Tetlow, Research Fellow in the School of Mechanical Engineering, project leader for the Adelaide CubeSat project. Jade Chantrell, Bachelor of Aerospace and Bachelor of Science double degree student, University of Adelaide. Photo courtesy of the University of Adelaide.
Inovor Technologies is developing an Attitude Determination and Control System (ADCS) as part of our nanosatellite technology development program. Over the past 9 months, Jade has implemented an optimal control algorithm in our satellite simulation environment, to support our ADCS development. She has also done an extensive literature research and documented the findings, providing a valuable resource for our team of engineers.
Taking on a supervisory role requires a considerable time commitment, so it is important that there are benefits to our young company. In this case the time investment has been well worth it. Jade is a very promising Engineer and it has been a pleasure working with her. She is dedicated, outcome driven, and takes on responsibility readily. She has delivered useful outcomes for Inovor Technologies, and has conducted herself in a professional manner. This program has been useful to our company as well as being rewarding for me personally.
It is a very worthwhile exercise being part of the Defence Honours Scholarship Program. It is rewarding to contribute to a student's education, and if you choose your candidate carefully it can also add to your company's knowledge base.