November 2018
Open Gardens SA and TAFE SA Awards
The Playford Trust was pleased to honour eight worthy TAFE SA students with Playford Trust Awards at a ceremony at the TAFE SA Urrbrae Campus on Thursday evening, 22 November.
'Sir Thomas Playford would have been delighted with the high calibre of young people applying for these awards, and their commitment to the future development of industry in South Australia', said the Hon Dean Brown AO, Chairman of the Playford Trust. Sir Thomas was a renowned horticulturalist, as well as our longest serving Premier in South Australia. He understood very well the great value of encouraging further educational opportunities in the horticultural sector.
Open Gardens SA/Playford Trust/TAFE SA Award
Elleca Polson, Diploma of Horticulture, Urrbrae Campus
Elleca was inspired to pursue a career in Horticulture in 2015 after working for Greening Australia preparing native seedlings for planting on a mine rehabilitation project in WA. In 2016 she helped an Adelaide University ecology investigating adaptation of a native species for restoration. This lead to several week-long trips to remote regions of South Australia and Victoria to take site samples of a native saltbush and a species of Eucalypt and to assess the genetic adaptation of the species for potential use on revegetation sites.
Passionate and with an excellent work ethic, Elleca does more than required in her studies and is not afraid to deviate from the norm and offer alternative solutions.
Elleca now works full-time in garden care at Bunnings, is an aspiring apiarist, and recently joined the SA Mediterranean Garden Society. She attends open gardens through Open Gardens SA that supports the society. Her goal is to work with a team of passionate horticulturalists and landscapers designing, constructing and maintaining creative, ecologically friendly and environmentally sustainable gardens around Adelaide.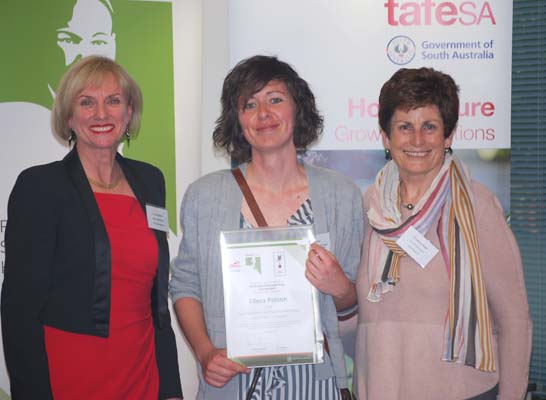 Open Gardens SA/Playford Trust/TAFE SA Award
Cassandra Rogers, Diploma of Arboriculture, Urrbrae Campus
Cassie took on the Diploma of Arboriculture to improve her skills and knowledge as an administrator at Arborman Tree Solutions. She already has a Bachelor of Biotechnology and Bachelor of Teaching in Secondary Education (Science). Recently she qualified as a Quantitative Tree Risk Assessment Registered User, building on the knowledge gained from her course.
Described as a high-performing, model student, Cassie is diligent, patient, enquiring, and organised. Her highly-developed planning skills have allowed her to balance work, home and study. She works well with others – fostering a collaborative environment and shares her knowledge and skills –particularly in information technology.
Cassie is hooked on the idea of becoming an urban planner and wants to guide future development to retain trees and to help people choose suitable trees for the changing Adelaide environment. She believes the best way to encourage this love of trees and gardens is through education and choice, allowing people to develop ownership and care of the green spaces around them.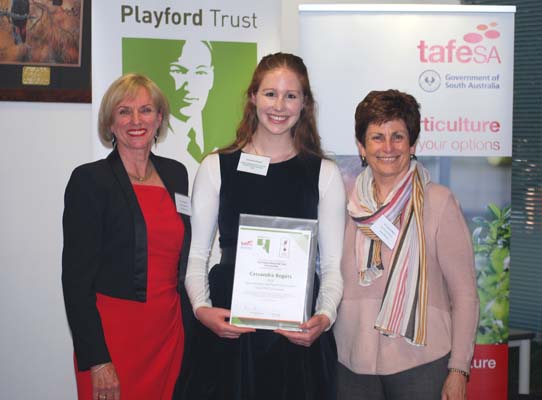 Open Gardens SA/Playford Trust/TAFE SA Award
Lu-Wei Spinks, Certificate III in Conservation Land Management, Certificate III in Horticulture, Mount Gambier Campus
Lu-Wei embarked on her TAFE studies to develop practical, on-ground, fieldwork skills and the skill set and experience to directly address issues of environmental conservation and land management. She had previously completed a Bachelor of Science majoring in Environmental Management, which challenged her to think differently and critically about environmental issues and the many ways to manage them.
She has been described as a very enthusiastic member of her class, producing work of a very high standard and embracing the 'hands on' learning mode of her certificate III qualification. Using her enthusiasm Lu-Wei leads and mentors other students.
Initially volunteering, then doing occasionally paid work, Lu-Wei now has an internship with the Nature Glenelg Trust, Department of Natural Resources SE and Mount Gambier Council's Sustainability Department. In collaboration with the Department, she has established a volunteer group aimed at creating a platform for young people (aged 15-35) to engage and connect with the environment through a range of activities. She plans to inspire an interest in native plants and gardens through this volunteer group, and also through community environmental education.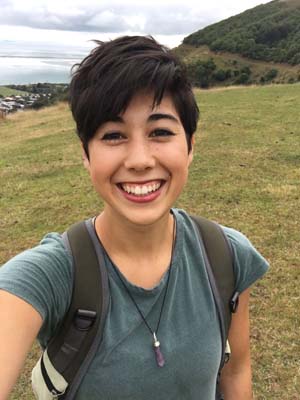 Playford Trust/TAFE SA Award
Cathryn Apps, Diploma of Landscape Design, Urrbrae Campus
Cathryn has been gardening since 2003, and over the last two years has been juggling study with expanding her client base and being a mother of four. Her greatest motivation has been to transition from gardener to landscape designer.
Cathryn has a very clear vision of where she wants to be in the industry and has developed a solid client base. She is keen to foster an ongoing relationship with her cohort and has already been a key member of collaborative projects since she graduated.
As a student, she was keen to promote the good things about the industry and share her experiences with peers and other students. She has a very positive outlook and has appreciated the support at TAFE – valuing her lecturers' passion for design and creativity.
Now a graduate member of the Australian Institute of Landscape Designers and Managers and student member of Master Landscapers of SA, Cathryn is already getting design work and is working towards her goal to enter a show garden and work with a designer to enter the Chelsea Flower Show.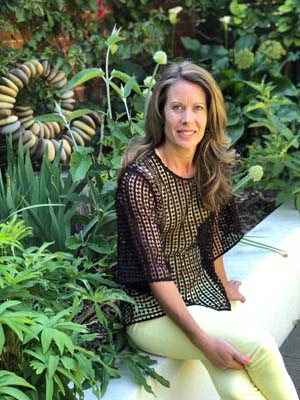 Playford Trust/TAFE SA Award
Daniel Carney, Diploma of Conservation Land Management, Urrbrae Campus
Daniel has long had a passion for the natural world and the intricacies of the ecological systems that support life, society and culture. Through his study he is seeking the environmental management skills to support his family, and more sustainable and ecologically-supportive practices in the community.
Daniel is keen to jump in and participate and take the initiative, and his passion for conservation shows in his enthusiasm for his study. He is a charismatic communicator and able to build rapport with a broad cross-section of people.
Daniel works in garden and land management, has worked as an assistant arborist, and with the Department of Education in a variety of roles. He is a volunteer for Trees For Life and Bush For Life. He plans to do further study in holistic management practices, particularly in permaculture and is considering environmental science at university.
He has a longer-term goal of working in the Industrial Hemp industry in South Australia as a producer, manager and consultant.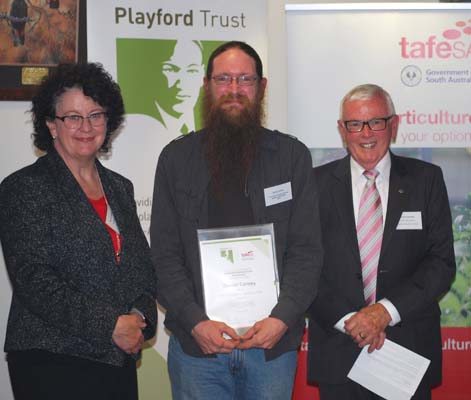 Playford Trust/TAFE SA Award
Jason Cullen, Certificate III in Conservation Land Management, Urrbrae Campus
Jason became a volunteer with Trees For Life and the Friends of Sturt Gorge early this year – after noticing a 'Bush For Life site' sign in the Blackwood Hill Reserve behind his house. 20 Bush Action Team events later, he was inspired to study conservation and land management. He already has a double degree in International Relations and Language: Spanish.
His strong commitment is reflected through his extensive conservation volunteer work. Last year, he was living in Guatemala, Central America, completing the Post-Graduate Certificate component of a Master of Arts – International Development. To address the excessive amount of street litter polluting the local water source, he initiated a public waste disposal project – installing ten public recycling and waste bins in high-volume locations. He gained commitment from the council to collect and dispose of the rubbish.
Jason approaches his studies with the same level of enthusiasm and dedication. His preparedness to promote the benefits of his studies with TAFE and support others in their endeavours is exemplary and consistent with the spirit of the Playford Trust Awards.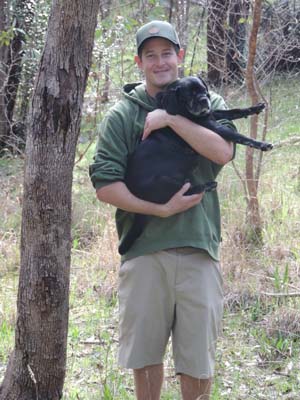 Playford Trust/TAFE SA Award
Joe Kupke, Certificate III in Arboriculture, Urrbrae Campus
In 2017 Joe started a tree pruning and removal business. For five years he had been a sub-contractor cutting trees for power line clearance – where he disliked how trees were treated. He also decided he wanted to develop his skills, and learn more about maintaining the health of trees.
As well as studying himself, he is sponsoring the retraining of his employee into the arboriculture industry. Both are thoroughly enjoying everything they learn – new skills, techniques, and better ways to preserve trees and their natural beauty. He mentors younger students in his TAFE group, adding a high level of work/industry standard relevance and contributing to the quality of training.
As part of his company's commitment to reducing their environmental footprint, Joe has begun an initiative with the goal of planting ten new trees for every one they cut down. Joe plans to continue with a Diploma of Arboriculture and to expand his business into consultancy. He also wants to investigate the option of becoming a trainer/assessor – passing his skills, knowledge and passion to the next generation of arborists.
Playford Trust/TAFE SA Award
Wanphen Rancen, Certificate II in Horticulture, Urrbrae Campus
Yuri's interest in gardens is diverse. She loves to grow her own food so she can prepare healthy food for her family and friends, (she is a mum and a carer), and beautifying the garden with flowers and ornamentals. She is also a volunteer at her local kindergarten, sharing her passion of gardening, culture and family values with children – facilitating and encouraging a stronger healthier community.
In 2017 Yuri received an Australian Government Volunteer Award and this encouraged her to seek out studies that linked her interests in community and gardening. Yuri is another exceptional role model and an ideal ambassador for TAFE and the Playford Trust. She has a positive attitude and a strong desire to succeed. She asks questions, listens, motivates others, and has developed a support network amongst her peers.
Yuri demonstrates a genuine desire to be at TAFE and learn so she can apply horticultural practices widely in the community. Yuri plans to complete a Certificate 3 in Horticulture, continuing with her volunteer work, seeking work in a nursery and starting her own market garden.