November 2020
TAFE SA Awards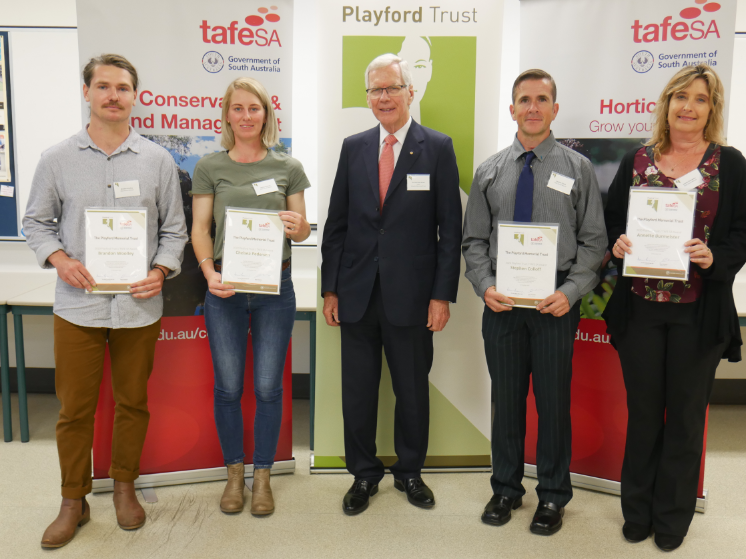 Congratulations
2020 Playford Trust/TAFESA Award winners!
The following five talented award recipients were chosen from a field of more than 30 applicants. All are top students who have demonstrated leadership, teamwork and a commitment to work and learning.
A COVID-compliant, smaller-than-usual award ceremony was held on Thursday, November 12 at the Urrbrae TAFESA Campus.
Annette Burmeister, Diploma of Horticulture, Diploma of Landscape Design,

Urrbrae TAFE
Annette says she's been a horticulturist and garden designer since, as a child, she discovered an unused space in the BBQ area in her family's backyard. She's always had a connection with plants and Nature and used to love exploring the bush out from Alice Springs, where she grew up.
Her 'real' career in horticulture began in Queensland when she had the chance to teach children about companion planting and organic food production – and, in her view, there are not many jobs as fulfilling as connecting children to Nature and showing them how to garden while being 'friends with the Earth'.
Career highlights, so far, have included working for a mining company growing endemic plants to restore bushland, and teaching volunteers at a Landcare nursery on the North East coast. Back in South Australia, working in retail nurseries, she happily advised customers on how to choose the right plants for their locations, but realised she needed more knowledge about how to garden successfully in SA's tough environment.
When asked to design several garden spaces, including a Japanese garden for a primary school and a garden for special needs students at a high school, Annette made the decision to study a double diploma in Horticulture and Landscape Design – and start her own business.
Through SHEA Gardens she offers a specialised and holistic garden design and horticultural consultancy service. SHEA stands for Sensory, Healing, Energy, Artisan Gardens and Annette says her business encompasses her life experiences and enables her to create beautiful and meaningful gardens for clients.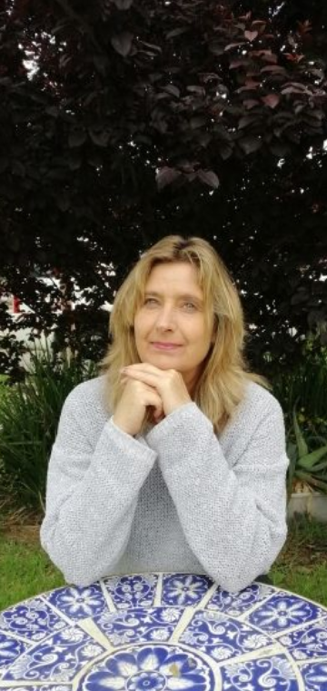 Pearl Dessart, Certificate III in Agriculture, Port Lincoln TAFE
Pearl says she has always been interested in agriculture, but it was her 2019 Year 10 work experience stint with the local PIRSA Animal Health Officer that confirmed her desire to pursue a career in the field.
This year she took on a Certificate III in Agriculture as part of her Year 11 studies and recently began a farm-based agricultural traineeship through which she is gaining hands-on, practical experience that complements her TAFE studies.
Unfortunately, due to changes in staffing and COVID-19, her studies stagnated somewhat this year. But to keep learning while classes were halted, Pearl involved herself in helping local property owners with fencing and crutching –and learned some new skills, including how to use a chainsaw and ride a quad bike.
While she is keen to explore all aspects of agriculture, she has a particular interest in stock management and breeding – and this is definitely reflected in her personal life. She's involved in the sports of team penning and ranch sorting, stockman's challenge events, trail riding with her horse, Ruby, and roust-a-bouting for local sheep farmers.
Early last year, Pearl was the only Under-18 participant in Cummins Trek – a ride from Cowell to Port Lincoln (via Cummins) to raise funds and awareness for the group Mentally Fit EP.
She is also an accomplished multidisciplinary dancer and enjoys 4-wheel-driving and spending time at the beach.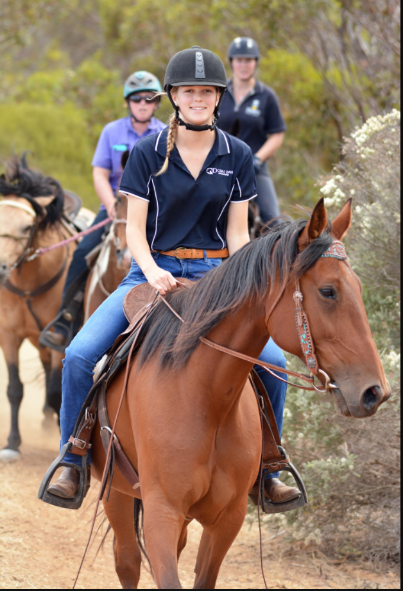 Brandon Woolley, Certificate III in Conservation and Land Management, Barossa TAFE
Brandon always knew he wanted work on environmental issues but was caught up in another line of work and couldn't visualise how to make his dream a reality.
He was working as an apprentice plumber in the Adelaide Hills, and says not a day passed when he wasn't taken aback by the natural beauty around him. He was inspired to dive deeper and learn more, so borrowed books on plant identification and joined online groups that discussed symbiotic fungi.
Eventually he decided to return to full-time study – and while he says it was one of the hardest choices he's ever made, he's certain it was the right one.
This year Brandon has been doing his Certificate III in Conservation and Land Management (CLM) and has plans for more study, including a Diploma of CLM and, hopefully, either Conservation Biology or Science at the University of Adelaide. He's keen to get a job with an environmental consultancy so he can study and work at the same time.
Brandon has been fortunate enough to be involved in preliminary vegetation surveys for the Marna Bangarra Project, which is endeavouring to reintroduce locally extinct mammal species to the Southern Yorke Peninsula. The aim is to help restore the local ecosystem and increase biodiversity.
Long-term, Brandon aspires to qualify and then work as an ecologist, so he can help conserve South Australia's unique vegetation, fungi and fauna.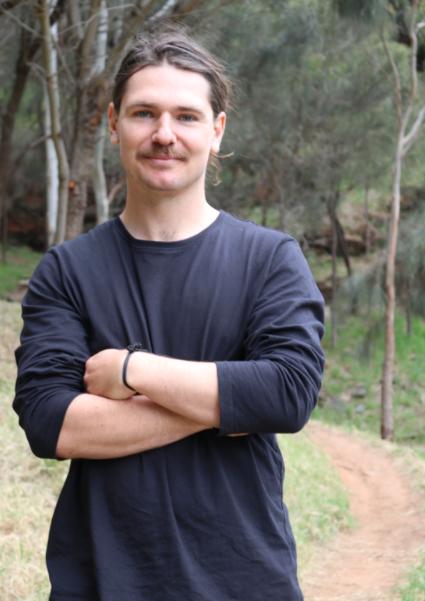 Stephen Colloff, Diploma of Conservation and Land Management, BarossaTAFE
Stephen began a mature-age apprenticeship in 2013, studying a Certificate III in Horticulture. When he was placed with the City of Burnside Biodiversity Team, he knew straight away he had found his calling.
Over the next two years, he put everything he had into his study and work, gaining knowledge from team leaders and lecturers alike. He achieved certificates of merit for all his assignments and built a solid reputation within both the Council and the biodiversity community.
During his apprenticeship Stephen was named Horticultural Student of the Year, nominated for South Australian Apprentice of the Year and was among the finalists for Australian Apprentice of the Year. He was also selected for the Today's Skills, Tomorrow's Leaders Program, in Canberra, at the Institute of Sport.
In 2016, Stephen gained full-time employment with Burnside Council and is currently Team Leader of Natural Resources, with responsibility for more than 40 biodiversity sites and a team of five people.
He says studying at Diploma level has helped him grow in confidence both as a Leader and as part of the team. The result is a more knowledgeable working group, and parks better suited for climate and habitat. Stephen has brought his biodiversity vision to life, revitalising and revegetating some of Burnside's existing urban bush sites and launching new biodiversity areas, using different land management techniques.
He aims to continue studying – a Certificate in Aboriculture is part of the plan – and his goal is to become a conservation technical officer, and eventually work in a coordinating role.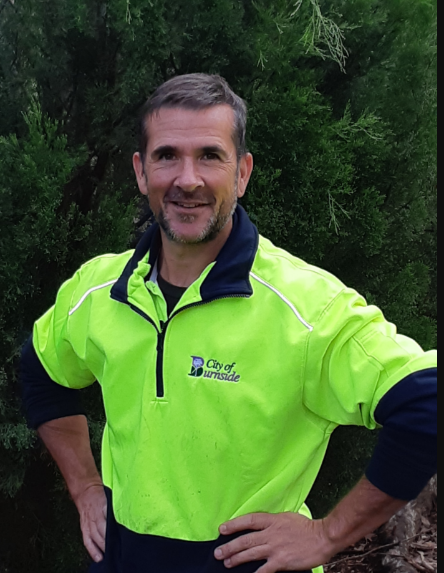 Chelsea Pedersen, Diploma of Conservation and Land Management, Barossa TAFE
Chelsea is passionate about the environment and sustainability in South Australia – and the world. Taking on the Diploma in Conservation and Land Management was an easy decision for her, as she wants to further her knowledge and gain employment in the industry.
Chelsea comes from a farming background and lives in the South East but she's studying her Diploma at the Barossa TAFE Campus. So far, she has completed four units of study – Collecting and Classifying Plants, Developing a Water Quality Monitoring Program, Defining a Pest Problem and Analysing and Presenting Research.
Apart from studying, she works full-time as a Senior Project Firefighter for the National Parks and Wildlife Service, and leads a small team involved in fire management and district project works in her area. She is working towards a role as a Park Ranger.
Recently, after being involved in a prescribed burn, Chelsea was chosen to receive specialist training that will see her being part of a National Parks fire ignition crew for future burns.
Outside of study and work, she is an avid hiker and regularly does overnight walks with her partner in different national parks. She is an active member of the Willalooka Volunteer Fire Brigade, organising and attending events, checking and maintaining the truck and responding to local callouts.
Undertaking a TAFE Diploma has been a huge confidence builder for Chelsea and she looks forward to a long-term future in the environmental sector in South Australia.